Bulletin
"He Who Judges Me Is the Lord"

"Let a man so consider us, as servants of Christ and stewards of the mysteries of God. Moreover it is required in stewards that one be found faithful. But with me it is a very small thing that I should be judged by you or by a human court. In fact, I do not even judge myself. For I know of nothing against myself, yet I am not justified by this; but He who judges me is the Lord. Therefore judge nothing before the time, until the Lord comes, who will both bring to light the hidden things of darkness and reveal the counsels of the hearts. Then each one's praise will come from God." (1 Corinthians 4:1-5)
Context: Unspiritual, Carnal, Superficial, Human Judgment
The passage continues the context of addressing a specific manifestation of carnality in Corinth. The brethren were divided, following various preachers (1 Corinthians 1:12-13; 3:3-4). Their division was not a result of discerning content – truth or error (cf. 1 Thessalonians 5:21-22). Paul explained that he and Apollos were one in their work, a unity provided for by the one Spirit (1 Corinthians 3:5-8; cf. 1 Corinthians 12:4-14). Their judgment was based on ephemeral matters of human wisdom (cf. 1 Corinthians 1:17, 20-21; 2:1, 4). They divided over style, personality, rhetoric, and other human qualities, not one of which had anything to do with the saving power of the Spirit's revelation.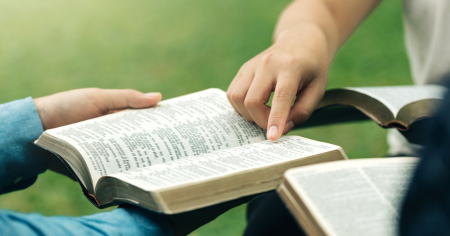 We must not confuse Paul's words concerning judgment as a blanket condemnation of the activity. His words provide a filter for our judgment, whether of self or another. They ensure righteous judgment over against a superficial kind (cf. John 7:24). Paul proceeded to write, "Now these things, brethren, I have figuratively transferred to myself and Apollos for your sakes, that you may learn in us not to think beyond what is written, that none of you may be puffed up on behalf of one against the other" (1 Corinthians 4:6). The prohibition is against making judgments (thinking) "beyond what is written." When Paul said, "He who judges me is the Lord," it is certain that he anticipated a day of final judgment. However, the Lord disclosed to us His standard of judgment that we might be ready for the final judgment (cf. John 12:48). He later wrote, "For if we would judge ourselves, we would not be judged. But when we are judged, we are chastened by the Lord, that we may not be condemned with the world" (1 Corinthians 11:31-32). We are to judge ourselves now by God's word that we will be equipped to stand with the righteous in the final judgment. This is not the judgment the Corinthians were administering. Their judgment led them to be "puffed up on behalf of one against the other."Judgment by human standards results in pride. Judgment by the Divine standard results in humility (cf. 1 Corinthians 1:26-31; 3:18-23).
Therefore, Paul is unbothered by any negative judgments from the Corinthians, and unimpressed by any that are positive. He does not even estimate himself in this way, but only seeks the Lord's standard which will judge in the end.
Thoughts for Consideration
Paul is not suggesting that one cannot know whether they are in sin. It has been suggested that his words, "I know of nothing against myself, yet I am not justified by this," is Paul's implication that there was no way of knowing for sure that he was not presently guilty of sin. This is absurd. He told the Thessalonians, "You are witnesses, and God also, how devoutly and justly and blamelessly we behaved ourselves among you who believe" (1 Thessalonians 2:10). He could rightly assess his conduct and standing with God. He is emphasizing that he is not the standard – Christ is. Christ has revealed His word that we might know we have eternal life (cf. 1 John 5:13).
Any judgments "beyond what is written" are insignificant. Many hear the convicting proof of God's word and deceive themselves about what it revealed in them (cf. James 1:22-25). They appeal to human wisdom, and peer analysis to justify their actions, and pacify their conscience. Rather than falling in line with Scripture's teaching concerning speech, conduct, dress, relationships, etc., they exonerate themselves from all guilt through self-deception. This will not affect the Lord's righteous judgment in the end.
Regardless of how compelling our reasoning is and who we have convinced, Christ's standard will judge in the end and reveal the hidden counsels of the hearts. True fellowship with God is not the motive of carnal assessment. All such judgment is seated in worldly ambition. There are pretenders in the Lord's church whose sins and motives will be revealed in the end (cf. 1 Timothy 5:24). We must all give time to honest introspection concerning the motivations behind our reasonings. Am I seeking the righteousness of God, or am I seeking a way to appear righteous to myself and others while enjoying the passing pleasures of sin?